Local Beaches
Port Aransas and Mustang Island Beaches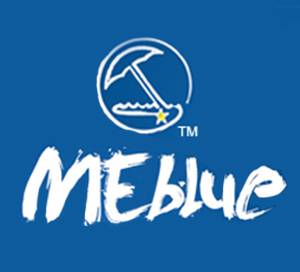 MEblue - Beach Services
(361) 243-0080
"MEblue is a first class beach service offering resort style comfort at a great price. Don't worry about packing, carrying and having to clean bulky canopies or chairs. We'll provide everything you need for a relaxing day at the beach. Our attention to detail and unmatched customer service speaks for itself. All that will be left for you and your family to do is sit back, relax and let MEblue do all the work. 
We recommend reserving at least 1 week in advance to ensure availability as we do tend to fill up quickly. See you on the beach!"
Special Offer for Gulf Shores Guests: The code for a 10% discount will be GS10. Enter or mention this code when reserving your beach package with ME-Blue This code will be good for June and July 2021.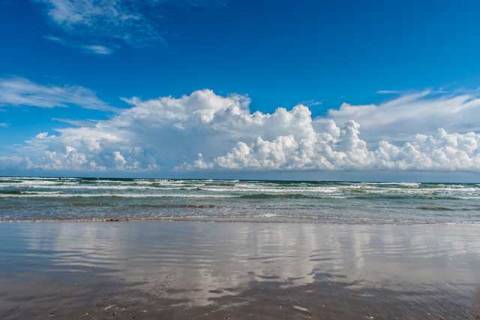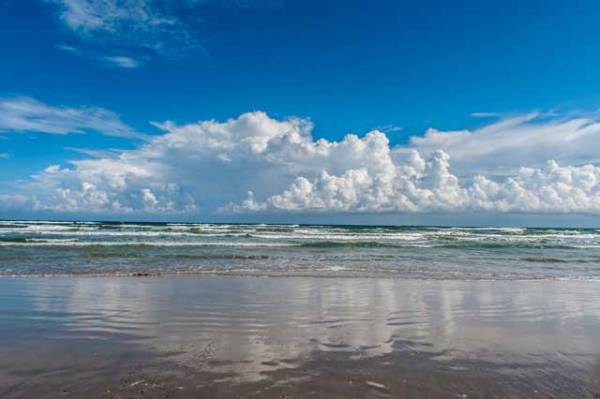 Port Aransas Beach 
Port Aransas Beach offers a $12 yearly beach parking pass that can be purchased at City Hall, Bron's Beach Carts, Local gas stations & Bron's Beach Rental Trailers located at the beach entrances. These permits allow you to park along the beach between mile markers 0 - 62 all year round. Free parking section between pier 52 & 58.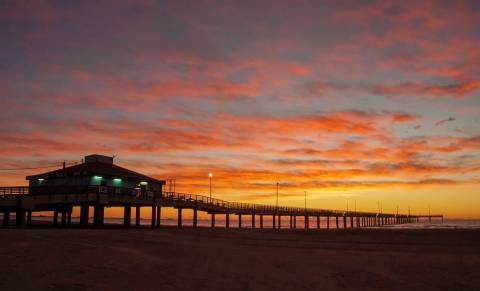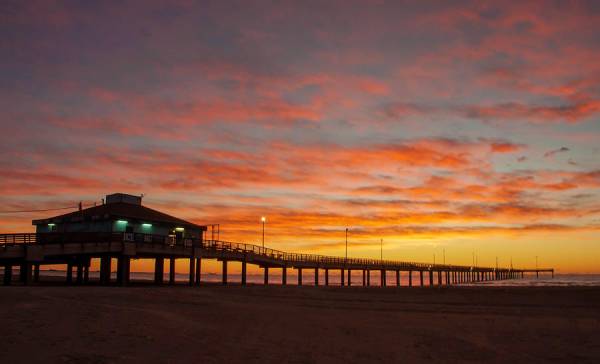 IB Magee & Horace Caldwell PIer 
IB Magee Beach is located all along the sand dunes that line the edge of Port Aranasas. Driving is permitted along the beaches of Texas making this the perfect stretch for a beach cruise in a golf cart, or your own vehicle! Whenever you are in Port Aransas, IB Magee Beach is never more than a 5 minute trip away. Located down from the jetty (which many fisherman opt to cast out from as well as spear fish around) you can't miss the 1,200 foot long Horace Caldwell Pier where you can walk out over the Gulf and toss out a line in the water or get some food out at the grill. 
Free parking during the day 
Pets must remain leashed
Overnight stay is allowed; permit required
Pier Entrance fees: $2 per person, $2 per pole, (4 rod limit per person) Seniors 65+ & Military $1 per person, Children 4 & under are free.
Public camping permitted, RV hookups & shower facilites are near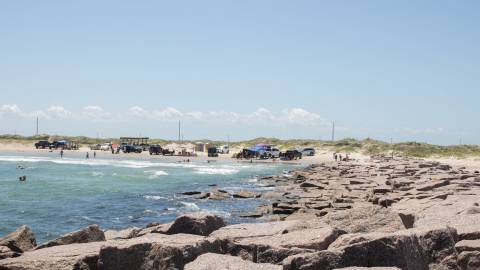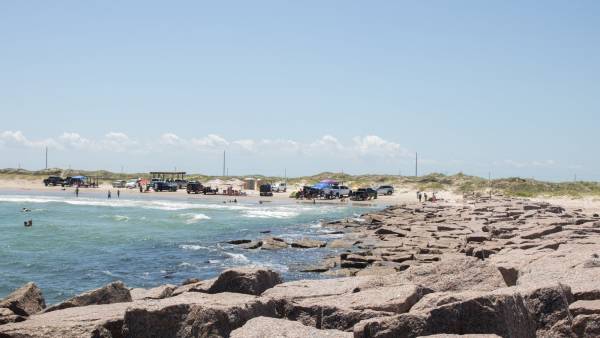 Mustang Island State Park 
A 5 mile stretch of sandy beach located along Mustang Island's coastline gives visitors from all over a state park atmposphere without having to travel far from the close by amenities of Port Aransas and Corpus Christi. 1/3 of a mile from the beach you can stay at one of 48 water & electric campsites or 50 drive-up primitive sites. There is water- cold-water rinse showers and portable toilets along two miles of the beach. Full sized bathrooms and showers with hot water are located near the water-electric campgrounds.
Entrance fee is $5 daily for Adults. 
Entrance fee is free for children 12 and under. 
Texas State Parks pass is also offered for $70/year and gives you entrance into 90+ state parks without paying the entrance fees.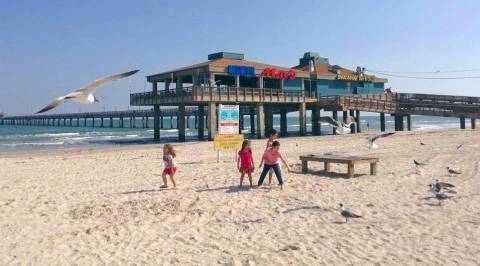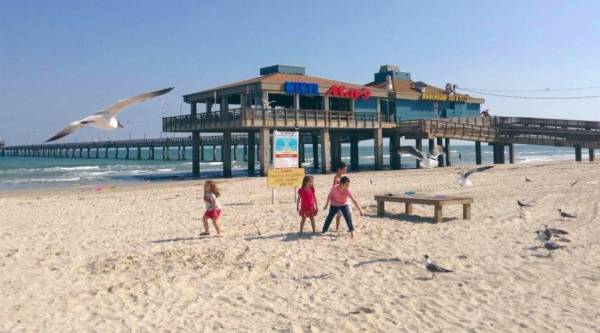 Padre Balli Park & Bob Hall Pier 
Located on North Padre Island, a short commute from Port Aransas- Padre Balli Park and Bob Hall Pier provide a very convenient beach experience for fisherman and families alike. There is a large asphalt parking area aligned with semi covered pic-nic tables that are free for all to use and enjoy. Located on the pier is Mikel Mays, a local restaurant and bar where you can watch the surfers in the waves, the fisherman along the pier as they reel in thier catches, or even just enjoy the view of the coastline while you have some lunch and enjoy a cold drink!
No beach entrance fees
$12 Parking Permit Required (can be purchased at any local gas station & some entrances)
Entrance fee to walk the pier $2 per person/day 
Pet-Friendly Restaurant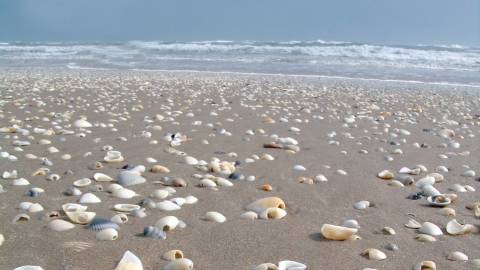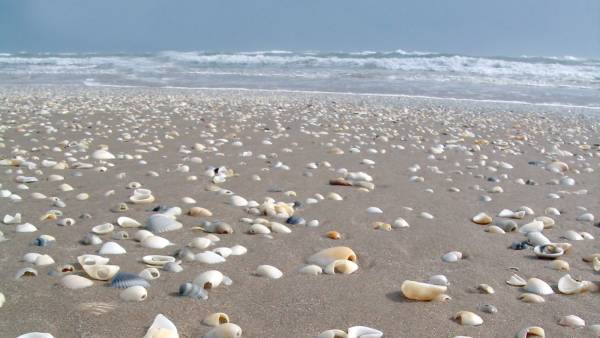 San Jose Island 
 A short ferry ride from Port Aransas is a largely uninhabited and undistrubed miles long stretch of beach called San Jose Island. The perfect spot to go when you feel like truly getting away and feeling like you're on a pricate island; because well, you are! So, pack your bag, bring a pic-nic and a bag to collect shells while you're there and get ready to truly relax and explore in nature.
**FUN FACTS: San Jose island was once claimed by France, then Spain and even a pirate - the first American flag to fly over Texas was planted here in the sand dunes on July 26, 1845 by Lt. Chandler of the USS. Alabama. A town by the name of Aransas once flourished among San Jose Island and was a successful port for the Confederacy during the Civil War. Cotton, beef, seafood, military supplies and other items were sent from its shores until the Union Army came into town and burned down every structure in sight including all the docks and then stole all the livestock. They say there are all kinds of burried treasures and historical pieces beneath the sands at San Jose Island dating back to the 1500's!